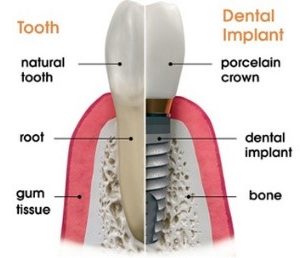 Dental implants are now the standard of care in dentistry for tooth replacement.  They offer the patient a more natural function and appearance than traditional treatments such as partials, bridges and dentures.
A dental implant is an artificial tooth root that is placed into your jaw to hold a replacement tooth or secure a denture. Once the implant has healed and integrated with the surrounding bone, a crown is placed on top via a supporting post/abutment.
Dental implants are an ideal option for people in good general oral health who have lost one or more teeth.  This is truly a life changing procedure for patients that have struggled with tooth loss.